Self-Love Stories: Live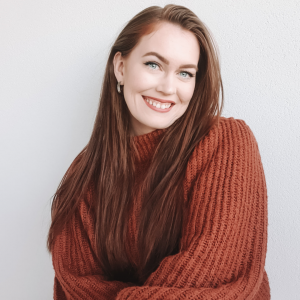 Meet Live Breidablik! She helps ambitious women overcome anxiety and upgrade how they see themselves. In today's post, she'll share how improving your self-image and reducing your anxiety can enhance your confidence!
Tell us about yourself.
I am the founder of The Grateful Beginning, and co-founder of Happy Grateful Academy. I help women get rid of anxiety and upgrade how they see themselves, by building a stronger self-image. I am passionate about women setting themselves first and seeing their own potential. I offer a self-study mini course called The Anxiety Fighter, as well as my wonderful 6 week private coaching experience! I am often seen with a cup of coffee and am actually a musician turned online educator!
Describe an area of your life where you felt less confident and how you overcame it.
I struggled with anxiety for a long time as a young woman, and I tried to hide how badly I was struggling as I was very much a people pleaser. I had to shift my perception of myself completely to become more confident. Targeting my anxiety alone did not help, so I learned to change the way I viewed myself and my own potential, and the results I got were life-changing and came very quickly!
Why is self-love important, and how do you practice it in your life today?
Practicing self-love is important because you show yourself that you are a priority, and you build a strong sense of self-worth. My self-love routine consists of a good morning routine, and to keep my habits of building my self-image.
What advice would you give someone who is struggling to love who they are?
Learn to listen to your intuition. When you learn to listen your intuition, you will learn to let go of other people's opinions. Everything you need is already in you, but you have to learn to listen to it, not ignore it or seek validation outside yourself. It always starts within. The relationship you have with yourself is the most important one, because it is the one you will always have through life. When you understand and listen to your intuition, you have all you need, and you will be okay.
How does the work you do now help build confidence in others?
I help women get rid of anxiety by targeting their self-image, and understand that they are not broken or weak, they simply have some broken patterns. When you overcome struggles like anxiety, and learn how to rebuild your identity and self-image, you feel a sense of confidence coming from within. The more you learn about yourself, the more you will see that you have endless potential, and the confidence coming from that is unmatched!
Do you have a helpful product or service we can check out?
The Anxiety & Self Image Coaching Experience is 6 weeks of working privately with me. I will give you encouragement, support and accountability, and you will get a variety of teachings through live sessions, resources, videos, recordings and exercises. I will bring you out of anxiety, and enter into a new version of yourself, with a magnificent self-image and an upgraded vision of yourself!
Where can we keep up with you online?
You can visit my website here. Follow me on Instagram here, and join the Happy Grateful Academy group on Facebook here.