Self-Love Stories: Kimberly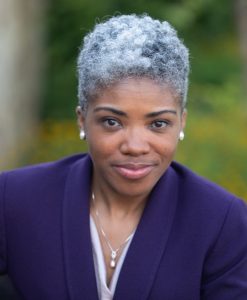 Meet Kimberly, or Ms. Pope, as you'll come to know her. She is a woman on a mission to keep us polished and poised. In today's post, she'll share why self-love is important to her and how her appearance led her to become the coach that she is today.
Tell us about yourself.
I'm an Etiquette Coach and founder of The Pope Institute for Polish, Poise, & Etiquette. We provide etiquette, image & personal branding, and career readiness coaching for students and professionals.
Describe an area of your life where you felt less confident and how you overcame it.
Growing up, I was always conscious of my height and being petite. I didn't have a "developed" body like other girls. Plus, during the early days of hip-hop and rap, it was common to see girls dress like tomboys. So my style gravitated in that direction because "baggy" was the thing and I didn't have to worry about my clothes having to "fit" me to accentuate the curves that weren't there.
Although being a tomboy was quite comfortable for me, I struggled as I got older with trying to figure out a personal style that was suitable for the young woman I wanted to mature into. It took MUCH trial and error to figure it out and learning from others. When I started taking most of my clothes to the cleaners for alterations to get that tailored look, that started changing the game for me. My confidence in how I carried myself followed suit: I had the look, and my deportment started improving as well. Now when I walk into a room, I know I have a commanding presence.
Why is self-love important, and how do you practice it in your life today?
Self-love is important because it is an expression of knowing your worth. When you know your worth, you are able to set the standard for how people treat you. Self-love also helps you to know how to express love towards others. Self-love helps you to know what love is and what it feels like. As for my self-love, I put myself first. I have boundaries to protect me. I set the tone for how to engage me. I indulge in what makes me happy. And I spoil myself (in moderation).
What advice would you give someone who is struggling to love who they are?
For the believers: All of God's creations are good. As one of His creations, you are worthy of love. Your very existence is because of His love. To not see your value, is like saying God made something that is not worthy of love – which we know not to be true. Pray and ask God to help you see the value in yourself – the value of His creation.
How does the work you do now help build confidence in others?
Whether it's in a classroom, one-on-one, or online, I create a safe space for others to learn and improve without judgement. I encourage, I try to understand, and I challenge my clients to rise to the occasion. No matter the topic, you will come out one step closer to being setup for success.
Do you have a helpful product or service we can check out?
Yes, I offer a one hour coaching session for any of the following services:
1) Image/Personal Branding
2) Career Readiness such as Resume Review or Interview Coaching
3) Dining Etiquette
Click here to book a session with me.
Where can we keep up with you online?
I invite you to join my Polish & Poise Community. You can also follow me on Instagram here, on Facebook here, and visit my website here.