Self-Love Stories: Marjorie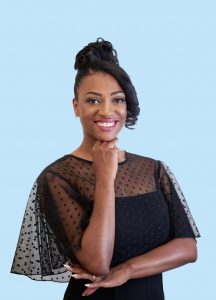 Meet Marjorie Vail! She is a motivational speaker, stillbirth and autism advocate, and she just finished up her year as Mrs. NY American 2020. In today's post, she shares her thoughts on how aging impacts her confidence and more.
Tell us about yourself.
I have devoted my life to helping others. After going through a devastating loss, I realized that the only way to get through hardship is to help others. Since that decision, I have done missionary work abroad and have volunteered for New York Cares, Propelled Media, NYC Book Through Bars, American Heart Association, and Star Legacy Foundation, which culminated in a citation as a "Woman of Excellence" from Brooklyn's Borough President Eric Adams.
After my husband's and my child was stillborn, I made a decision to be a megaphone in the fight against stillbirth. I am currently the Co-Director of Awareness for PUSH for Empowered Pregnancy. In addition to my volunteer and charity work, I am a licensed esthetician, the Vice President of Education with the L.A.C.E. Toastmasters and a pageant queen; having held the titles of Mrs. New York International 2015 and Mrs. New York American 2020.
Personally, I love to hang out with my "boys" (husband and son), read books, watch period pieces, and speak publicly. I hold a Master of Arts in Childhood Education from New York University with Kappa Delta Pi honors, a Master of Science in School Counseling from Alfred University and a MEd in Education Leadership. I reside in Brooklyn with my husband, Roman, of 18 years and my 14-year-old son, Amaelian.
Describe an area of your life where you felt less confident and how you overcame it.
I have to say, growing up I was pretty confident. I think my struggles with confidence came the older I have become. I have noticed the areas where there is less elasticity more and more. However, the more I have embraced that I am getting older, and that it is a privilege to get older, the less critical I have been of myself.
Why is self-love important, and how do you practice it in your life today?
Self-love is important because it is THE most important love we can have. No one can love us more than we love ourselves (aside from GOD). I practice this by taking care of my skin and body, saying and thinking positive things about myself, and spending time with positive people.
What advice would you give someone who is struggling to love who they are?
I always tell people to do the work and find out the root of their lack of self-love. The narrative started somewhere. Once you find and confront the source, then you can begin the work of healing.
How does the work you do now help build confidence in others?
I celebrate getting older and am honest about my struggle to normalize it, especially because I am in pageantry! By doing pageants, I help other women my age see that you can compete at any age and do great things for your community.
Do you have a helpful service we can check out?
I am a stillbirth and maternal health advocate! I am the co-director of awareness for Push for Empowered Pregnancy. Our goal is that every woman has a happy healthy pregnancy—especially women of color.
Where can we keep up with you online?
Follow me on Instagram here, and keep up with our work at Push for Empowered Pregnancy here.