Self-Love Stories: Marú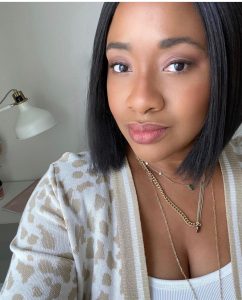 Meet Marú! She's a content creator with a lifestyle blog and YouTube channel who inspires people to step out on faith and live life with love and style. In today's post, she'll share how taking action helped her reach a goal that expanded her platform to touch more people and broaden her community.
Tell us about yourself.
I'm Marú, lifestyle blogger, YouTuber and creator of Faith, Love, Life & Style – a multimedia platform, where I share my love for all things home decor, fashion, beauty and inspiration for everyday living. As a working professional, embarking on this journey as a content creator over 35, I aim to inspire others to tap into their own magic and pursue all that they aspire to do … with just a leap of faith.
Describe an area of your life where you felt less confident and how you overcame it.
In planning to take my creative ideas to a new digital/media platform, I wrestled with the idea of whether or not I was ready and continuously second-guessed myself in terms of what I had to offer. After a year of delay due to my father's passing and several months of self-doubt thereafter, I recalled what he and my mother shared when I originally shared my ideas with them. This led to conversations with other loved ones and a friend/coach (Marissa Jordan) where I began to put in place small steps of action to make my plans become goals … and those goals, a reality. #VILLAGE
Why is self-love important, and how do you practice it in your life today?
Self-love is imperative because I believe that every action (every good action) is rooted in a place of love for oneself. For me, self-love is the catalyst for believing that I can, for knowing that I will, and for even understanding that I will fumble and make mistakes. But overall, it is what provides a foundation for every decision that I take towards becoming the best version of myself, not just for me, but in order to help, impact, assist or inspire others.
What advice would you give someone who is struggling to love who they are?
In all honesty, this one can be hard at times. But I would say, find one thing that you love about yourself or that others have shared that they love about you (e.g. your smile, your laugh, your positivity, your zest for life) and allow it be your light during the dark times. Own it, walk in it, use it to keep you going and to (even when things get challenging) encourage you to operate from a place of gratitude … gratitude for that one thing, if nothing else.
How does the work you do now help build confidence in others?
My joy for content creating and my love for all things home + lifestyle (from organization and decorating to cooking and space planning), has to my surprise, really inspired my Faith Love Life & Style community to bring joy into their space, to try new things and to find different ways to cultivate a happy dwelling. My goal is to keep creating content that not only shares my passions but inspires others to pursue their own, regardless of what the optics seem to be.
Do you have a helpful product or service we can check out?
Yes. Through my platform, I provide practical lifestyle tips for home curation and organization as well as inspiration for everyday living (cooking, fashion, beauty and more). You can find me creating and sharing weekly on YouTube at "Faith Love Life & Style" and also on Instagram @faithlovelifeandstyle almost daily.
Where can we keep up with you online?
Visit my blog here, subscribe to my YouTube channel here, and follow me on Instagram here.
Thank you!