Self-Love Stories: Chasidie Brown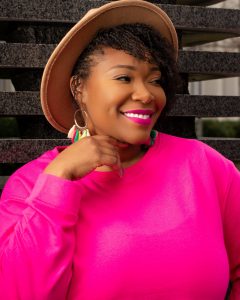 Meet Chasidie Brown! She's a mom, mindset coach, and woman on a mission to help women get unstuck and into action. In today's post, she'll share about her experience with misdiagnoses, prolactinoma and how shifting her mindset impacted her life.
Tell us about yourself.
I am Chasidie Brown. I am a woman who had to learn how to love herself again in the midst of an illness. I had to do the work to get unstuck. I've been married for 11 years to my husband Chris and we have two amazing children, Zavien and Harper. I am a Mindset Life Coach. My mission is to empower women to shift their mindsets in order to get out of their own way.
Describe an area of your life where you felt less confident and how you overcame it.
I felt the least confident in 2019. I was beginning to gain weight drastically. I had even gotten up to what I weighed while I was pregnant with my daughter. I started losing my hair and was unable to function mentally or physically. I had a hard time remembering things and would get dizzy and sick every time I would try to work out, which was not normal.
I knew something was wrong and went to several doctor visits, which led to several misdiagnoses. The only thing I could do was work on getting better one step at a time. I slowly began changing my eating habits  to assist me in getting better. I began doing lower impact exercises along with weight training. I learned what foods made me feel good and those that made me feel bad. Then COVID hit the US. That really helped me to finally REST and RESET. Yoga became part of my daily routine, which helped me learn my strength in a different way.
During this time I was led to do a 10 Day Liquid Fast along with reading "The Fervent Prayer" by Priscilla Shirer. When I opened the book there were 10 prayers, which were right in alignment with what God had already told me to do. This book reminded me of the importance of writing down and speaking my prayers daily. This led me to writing down and speaking my daily affirmations and the beginning of shifting of my own mindset. I had to tell myself what I was capable of, even though I didn't look or feel like myself. I had to learn how to embrace ALL of me. 
This was one of the toughest seasons in my life but it also is the one that lit the fire to push me to my ultimate purpose.
Why is self-love important, and how do you practice it in your life today?
Self love is important because no one can love you more than you can love yourself. As I began to love myself, I began to treat myself better. I speak about myself differently now. I feed myself differently (physically, mentally, spiritually) along with exercise.
What advice would you give someone who is struggling to love who they are?
I would advise them to see themselves the way God sees them. Look at themselves from a different view. What gifts has God given you that sets you apart from everyone else?
How does the work you do now help build confidence in others?
As a Mindset Life Coach I have the opportunity to not only encourage but empower women to do those things they've told themselves they were unable to do. I then work alongside my clients and assist them with creating strategic steps in order to meet the goals they have set for themselves.
Do you have a helpful product or service we can check out?
Yes, I am a Mindset Life Coach. I am currently offering 25% off of my 1hr Coaching Package –  "Refresh, Renew, Invest in You!" I also offer a FREE coaching call for those who are unsure what coaching really is. Check out my website for more details and booking information.
Where can we keep up with you online?
Visit my website here and follow me on Instagram here.
Thank you!